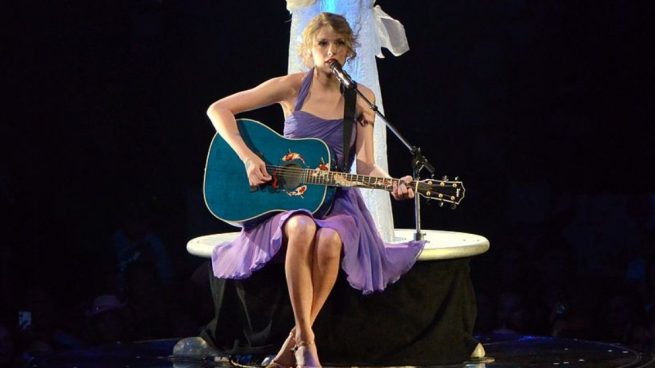 Taylor Swift es una cantante y compositora estadounidense que se perfila como la ganadora de diversos premios de la música.
No en vano, este 24 de noviembre Taylor Swift ha sido la auténtica estrella de los AMAs, al quedarse con cinco galardones. Con estos ha sumado 28, superando así al mismísimo Michael Jackson que tenía 24.
De 29 años de edad, Taylor Alison Swift se mudó a Nashville con 14 años porque tenía claro que quería realizar una carrera de música country. En aquel entonces fue la artista más joven contratada por Sony/ATV Music Publishing House, y prometía. En 2006, Taylor ya era importante, pues recibió una nominación a mejor artista nuevo en los Premios Grammy de 2008.
Luego, con su álbum Fearless empezó a ver las mieles del éxito, pues este disco fue el más vendido del año 2009 en Estados Unidos, y ganó cuatro premios Grammy. Y fue el álbum más premiado en la historia de la música country.
La carrera de Swift no hacía más que ascender. Posteriormente, con su disco Speak Now vendió un millón de copias en su primera semana en Estados Unidos. La canción Mean ganó dos Grammys.
Con su cuarto álbum también le fue estupendamente, mientras que el quinto fue un bombazo especialmente por Shake It Off y Bad Blood, que tuvo el récord del video más visto en un día de toda la historia de YouTube, con más de veinte millones de visitas. El álbum ganó tres premios Grammy incluido el de álbum del año.
Taylor Swift ha ganado diez premios Grammy, un Emmy, veintidós Billboard Music Awards, veintitrés American Music Awards, un premio Brit, seis MTV Video Music Awards, once Country Music Association Awards.
No solamente es cantante y compositora, pues también ha hecho de actriz. La hemos visto en la película de comedia Valentine's Day (2010), en la película animada The Lorax (2012) y en The Giver (2014).
Según la revista Forbes, en 2016 recaudó 170 millones, siendo la celebridad mejor pagada ese año y ha sido durante años una de las cantantes con mayor dinero del mundo. Se la relaciona con el actor y modelo Joe Alwyn.
(Fuente: OkDiario.com)